Page 2 of 2:
As can be seen in the images above; plucking the older needles also thinned the foliage mass considerably allowing me to study the branch structure of each trunk as well as making wiring easier.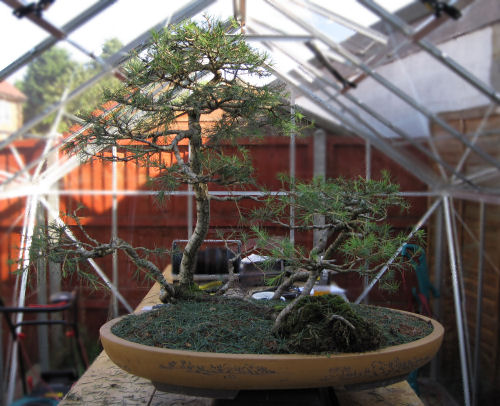 Plucking the needles from each of the trunks took over 4 hours but left a much clearer view for me to style the trees. Notice that I also removed two trunks including a thick one at the back of the group, leaving 5 trunks in total.
As light faded that evening, I had to stop work with the four minor trunks fully wired but the main trunk still to do.
The following day I started styling again, beginning the session by wiring the primary branches of the main trunk.
After another 3 hours wiring (making a total of 12 hours from start to finish) the raft styling was complete. All that remains now is to find a suitable pot for the Cedar bonsai next Spring.
Cedar bonsai/Cedrus deodara raft bonsai. Height of main tree approx 24"/59cm